FEATURING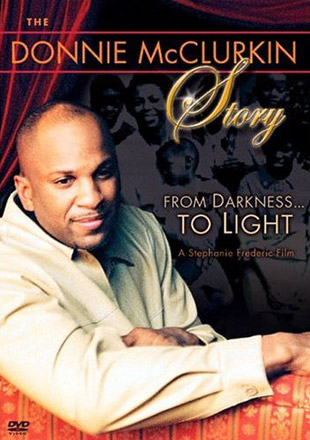 From Darkness to Light
FGW's Award-winning Documentary "From Darkness to Light - The Donnie McClurkin Story"
Now Available on DVD
.
Order Now:
Amazon.Com
or
Netflix.Com
FGW UPDATES
2020 Oscar Win!
FGW CEO/Founder Stephanie Frederic and the producing and directing team of HAIR LOVE win Best Animated Short at the 92nd Academy Awards.
FGW wins the coveted Gold Telly Awards in 2019
For video marketing productions and featurettes on Universal Pics' NIGHT SCHOOL film.
The Princess And The Frog
The Princess and The Frog " ...30 minute TV special
Tribute With AARP
Video tribute honoring TV legend Norman Lear
Universal Pictures
FGW produces trailer and video promotions for Universal Pictures' film, "Couples Retreat."
The Tyler Perry Show
FGW writes and creates TV promos for "The Tyler Perry Talk Show."
"My Generation"
FGW writes and produces news magazine segments for "My Generation" including features on filmmaker Ken Burns' new documentary series, "National Parks - America's Best Idea," Actor Alan Alda and The Dog Whisperer, Cesar Millan
"The General"
FGW writes, directs and produces new ad for "The General" Auto Insurance
TheLoop21.com
FGW produces Michael Jackson Tribute for TheLoop21.com
The Jonas Brothers
FGW produces sizzle reel for Disney & The Jonas Brothers
PRESS
FGW Productions & Transmedia on Fox News: Hollywood Producer Making Her Mark on Tinseltown
This text is replaced by the Flash movie.
---
FGW Productions & Transmedia teams up with Queen Latifah and Common in behind-the-scenes look at upcoming movie, "Just Wright"

JUST WRIGHT: HOW TO SCORE IN THE GAME OF LOVE
TV One network special premiering May 7th at 9:30 pm ET/PT
LOS ANGELES (May 7)---With NBA playoffs in full tilt, the stars of "Just Wright" join in the action going one-on-one taking viewers behind the scenes of their new basketball-themed romantic comedy. Academy Award-nominated and Grammy-winning actress Queen Latifah takes on Grammy-winning rapper turned actor Common in some competitive b-ball and conversation about women, men, dating, sports and scoring big in the game of love. That's the playby-play action unfolding in a TV One prime-time special, "Just Wright: How to Score in the Game of Love," premiering on Friday, May 7 at 9:30 p.m. ET/ PT.
"This is love and basketball, but on a whole new level," Queen Latifah tells viewers in the half hour special.
"People have been waiting a long time for a soulful romantic comedy and this is it," says Common.
Single men and women everywhere wonder: when will they find that special someone? How will I know if he or she is "the one?" What are the telltale signs? What should I look for in a mate? What can I do to become ready for love and to be loved? And how do I move from the friend zone to the love zone?
"When it comes to men and women, relationships, dating, love and competitive sports of any kind, interest goes way up," said Stephanie Frederic, president of FGW Productions & Transmedia. "Everyone can use a little help in improving a relationship and this special explores the process in an entertaining way. The special and film will make everyone smile." The TV One special is produced by FGW Productions & Transmedia Inc. and executive produced by Stephanie Frederic and Flo McAfee for Fox Searchlight Pictures.
The special takes viewers behind-the-scenes and explores what makes some relationships work as the cast members are put to the test. Also included are exclusive clips along with interviews from the cast of the romantic comedy who add their two cents on love and dating from a female and male perspective. For example, they touch on why it doesn't matter what kind of car a woman drives versus why it does matter for most men?
"Just Wright" cast members appearing in the special include Queen Latifah, Common, Paula Patton, Phylicia Rashad, Pam "Foxy Brown" Grier, James Pickens Jr., Laz Alonso, Mechad Brooks, NBA star Dwyane Wade, and ESPN commentator Stuart Scott. Check local listings for encore airings of the special.
Fox Searchlight's "Just Wright" opens in theaters nationwide on Friday, May 14th.
---
"Princess and the Frog" Animators Teach and Show Kids Technique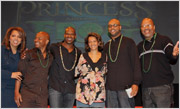 ATLANTA, GA (March 9, 2010) --- Local school children and employees met and mingled with the African American animators and screenwriter who worked on Disney's "The Princess and the Frog" during a Black History Month program held recently at Coca Cola headquarters in Atlanta. Under the coordination of Coke vice president and general manager Mark Pitts, the fun-filled program exposed the children and parents---many for the first time ever---to the exciting world of animation.
The program opened with a lively, informal discussion moderated by Stephanie Frederic, president of FGW Productions & Transmedia, which produced a television special on the movie (photo from left to right) and included: effect animator Marlon West; screenwriter Rob Edwards; communications manager, Shanda Williams; Bruce Smith, supervising animator; and clean-up animator Marshall Toomey. The special guests shared their inspiring and humorous personal stories of how they got into the business and described their commitment and the magic behind creating Disney's first African American princess. For the children, the highlight of the day was sketching their own characters with the animators and watching Bruce Smith draw the Dr. Facilier character followed by Marlon West and Marshall Toomey adding the final touches that made the character come alive in the movie.
Everyone left with autographed movie posters, princess dolls and stuffed animals as well as magical memories from their time spent with those who played a key role in creating the NAACP Image Award and Oscar nominated movie. "The Princess and the Frog" will be available on Blu-Ray, DVD and download on March 16.
Coca Cola GM and VP Mark Pitts, FGW CEO Stephanie Frederic, Effects Animator Marlon West, Screenwriter Rob Edwards, Coordinator Shanda Williamson, Supervising Animator Bruce Smith, Clean-Up Animator Marshall Toomey and Coca Cola Executive Chandra Stephens Albright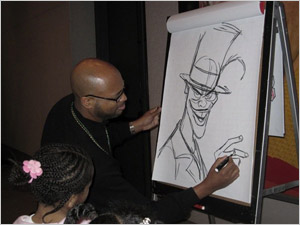 Disney Supervising Animator Bruce Smith showing a future animator how to create the magic.
---
FGW Productions & Transmedia REVEALS THE UNTOLD STORY BEHIND THE PRINCESS AND THE FROG

The Diary of A Princess: The Princess and the Frog
Television Special Premieres December 9 on TV One at 8 pm ET
Los Angeles, CA December 8, 2009---History was made at the beginning of this year and is being made at the end of the year. During the first month of the year, we witnessed the first African-American President being sworn into office, and at the close of the year Disney's first Black princess graces the big screen and makes her royal debut.
"I have a five-year old daughter… It means a lot to me to have a princess that looks like her," says Marlon West /Disney's Special Effects Animator.
Every African American girl has been waiting for that special princess, but so has every woman, mother, aunt, and grandmother. Everyone has been waiting for a princess who they can identify with and who looks like them. So who is this princess? What's her name? Who are her friends and family? Who are her foes? What does she want out of life?
That's the story unfolding in a TV One prime-time special, "The Diary of a Princess: The Princess and the Frog," premiering on Wednesday, December 9 at 8:00 p.m. ET/ 5:00 p.m. PT. Check local listings for the exact channel in your area. An encore presentation will air at 10:30 p.m. ET/9:30 p.m. CT and 7:30 p.m. PT the same night. The TV One special is produced by FGW Productions & Transmedia Inc. and executive produced by Stephanie Frederic and Flo McAfee for Walt Disney Animation Studios.
"We're very proud to be a part of history and to help the world get to know Princess Tiana better, " said Frederic, president of FGW Productions & Transmedia. "This is event television and I hope families will gather around the TV to watch this revealing special."
During the half-hour special, clips and music along with interviews from the cast and creators of the animated movie will provide insight into the beautiful girl with big dreams---Princess Tiana.
"The Princess and the Frog" cast members included in the special are: Tony award-winning actress Anika Noni Rose, Princess Tiana; Terrence Howard, the father of the princess; Jenifer Lewis, the fairy godmother Mama Oldie; Keith David, the villain Dr. Facilier; and Bruno Campos, Prince Naveen. Special behind-the-scenes footage of television titan Oprah Winfrey voicing her much-coveted role as the princesses' mother, Eudora, is also included.
FGW Productions & Transmedia is a full-service Los Angeles-based television, film and internet production company producing high-definition content for all media. For more information about the company visit www.fgwproductions.com.
Disney's "The Princess and the Frog," opens nationwide on Friday, December 11.